Description
A View to Take Home
Inspiring Travel Photography from Western Canada
Travel along with professional photographic artist Wilko van de Kamp as he chronicles the awe-inspiring beauty of Western Canadian provinces Alberta and British Columbia in his new book "A View to Take Home". Wilko captures the different aspects of the life he found when he explored these provinces as a "fresh off the boat" immigrant from Europe. He brings his findings in stunning, high-resolution images directly to the reader. Flipping through the pages of A View to Take Home, readers will feel as if they are riding alongside Wilko as he explores his newly adopted homeland on his motorcycle.

This book is the perfect gift idea for any photography lover in your life… get one for you, and one for them!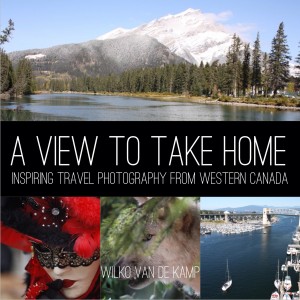 Also available on

What others say
Wilko could not have done a more perfect job of capturing the awe-inspiring beauty of Western Canada. We often get so caught up in our daily lives that we don't take the time to appreciate the beauty that surrounds us. Thankfully, Wilko has a special eye for capturing this world as he sees it. He is one of the best contemporary photographers.
Hugo Martinez Rapari - Juror / Proyecto MULAFOCO Photography Contest
A must-have for anyone who loves Western Canada – this book contains many stunning views you'll want to take home.
Maria Elena Hoover of Endeavor Arts, Calgary
Looking through Wilko's work makes my brushes stand on end and become a landscape painter! Such unbridled beauty!
David Uhl of UhlStudios.com
A fabulous collection of photographs. Wilko's photos convey the unique life found in the Canadian Rocky Mountains in a way that is unsurpassed. We love adventures here at All Season, Wilko does an immense job at bringing the Adventure to the viewer with his exquisite photographs.
All Season Motorsports, Calgary, Alberta
What is A View to Take Home?
A View to Take Home is a collection of high-resolution, exquisitely-shot photographs that offer readers an in-depth experience of a world that expands from the Canadian prairies all the way to the Pacific Ocean. Featuring photographs from Calgary to Victoria on Vancouver Island, A View to Take Home provides an escape into rugged nature, and surprising urban angles. Western Canada is a world filled with vibrant colors and textures, and Wilko brought them all together in his book. The Canadian Rocky Mountains are inhabited by an entertaining population of characters from the animal kingdom, each with their own unique personalities. A View to Take Home uncovers a unique perspective on this world, and brings it right into your living room.
The Man Behind The Camera
Wilko van de Kamp is an award-winning photographer and photographic artist, author of his first published book "The Freedom Project" and professional world traveler. His inspiration comes from traveling all over the world. He calls the Canadian Rocky Mountains his "home", and the rest of the world his "office". He has been capturing our wonderful planet, and it's beautiful inhabitants, for more than half his life. Through his art, writing and appearances as a keynote speaker he enjoys sharing his colorful experiences with the public.
Wilko established his photography studio, Creative Windmill Photography, 6 years ago when he first came to Canada. Wilko has spent his life traveling the world to capture awe-inspiring images for those who wouldn't see them otherwise – and to inspire others to embark on their journey of a lifetime.
What Can I Expect to See in A View to Take Home?
A View to Take Home presents the unique life found in the Canadian Rocky Mountains, as well as the bordering cities Calgary and Vancouver. It also includes some of Wilko's unseen coastal work from Vancouver Island. Readers will get up-close and personal with grizzly bears, black bears and even wolves,photographed in the wild.
Book Details
Size: 8.5 x 8.5 inch
Full color
Paperback: ~200 pages
ISBN: 0993826016 / 9780993826016